Has this happened to you?
If you like tinkering with your iPad, installing suspicious apps, or if you're a regular update-fiend, then chances are it has. Boot screen freezes happen all the time, and for a variety of reasons. In fact, this is one of the most common problems iPad users experience. No, you don't have to get a replacement just yet. You just have to learn how to restore your iPad via Recovery Mode.
Recovery Mode: An All-Around Fix
Recovery Mode restores your iPad's firmware to its original factory default settings, which means all your content and settings will be wiped clean, tabula rasa. It's like making your iPad new again—but only on the inside. And that's why you should backup your files before you attempt a restore using Recovery Mode on your iPad. More on this later.
Recovery Mode routinely fixes boot screen freezes, as well as a host of other problems you might encounter on your iPad. But since this essentially hollows out your content and settings, you might want to wait until you run into the following issues before doing a restore:
iTunes can't recognise your iPad after being plugged into your Mac/PC
You can't update your iPad to the latest iOS version
You're seeing a "Connect to iTunes" screen on your iPad
A Word of Caution: If you want to stay on your current iOS version and can avoid restoring your iPad via Recovery Mode, do that. Using Recovery Mode on your iPad will update your device to the latest version, which will render your custom firmware apps null (if you're using any). We highly recommend using Recovery Mode only as a last resort, especially if you're on custom firmware.
Preparing for a Restore using Recovery Mode
Before you restore your iPad, you need to do a few things:
Prepare iTunes on your Mac/PC. Open your Mac/PC and connect to iTunes. Make sure your iTunes is already updated to the latest version.
Turn your iPad Off. Make sure your iPad is powered down. Leaving it on the boot screen won't cut it. Hold down the Sleep/Wake button until you see the slider on the screen, which you can use to turn your device off.
Charge your iPad. Leave your iPad with sufficient charge before attempting to restore via Recovery Mode. Running out of battery mid-recovery can cause irreparable damage to your device. Recharge it first if necessary.
Backup your Files. Perhaps the most important step on this list. On iTunes, right-click on your device and select Back Up from the dropdown list. Note, however, that certain situations (such as if iTunes can't recognise your iPad) won't let you access the backup option. To be safe, regularly back up your files on iTunes.
Restore your iPad via Recovery Mode
Now that you're ready, follow the steps below:
Connect your iPad to your PC/Mac. Grab your iPad's lightning cable and connect your device to your computer.
Start iTunes. On your PC/Mac, run iTunes. If it's already running before you connected your device, close it, then run it again. Make sure it's updated to the latest version.
Enter Recovery Mode. With your iPad powered off and connected to your computer, hold down the Home button and wait for the Apple logo to appear. Wait for it to change to the "Connect to iTunes" screen, then release the Home button.
Click Update. On your PC/Mac, you should see a dialog box confirming that you are in Recovery Mode. You will be given two options, whether to "Restore" or to "Update". Choosing "Update" updates your firmware to the latest version and preserves your files to boot. Pick this option when possible.
Click Restore. On the event that an update is not available, click "Restore" and pray that you have a backup stashed on your iTunes or iCloud.
Set-Up your iPad. After restoring your device, you will have to undergo the same set-up process you did back when you first got your iPad. Be sure to create another backup this time around, just to be safe.
Stuck on Recovery Mode! Help!
Sometimes, going to Recovery Mode to fix your iPad can get you in trouble instead. Many users have found themselves stuck on Recovery Mode in an attempt to update their firmware. If you're currently stuck on Recovery Mode, you can try the following tips:
Try to do another Restore. Errors can sometimes happen even when doing a recovery, such as when your iPad isn't able to complete its restore due to your device powering down. It might be your error is temporary and can be fixed by another restore. Repeat the steps above if you find yourself stuck in recovery mode.
Download TinyUmbrella. TinyUmbrella is a tool on your PC/Mac that could help you restore your iPad's firmware manually. Download and install Tinyumbrella and follow the steps below:

With your phone still stuck on Recovery Mode, connect it to your computer using your lightning cable.
Launch TinyUmbrella and wait until it detects your iPad.
If your phone is still stuck in Recovery Mode, the tool will tell you that your iPad is still in Recovery Mode.
You should see the "Exit Recovery" button near the top of its interface light up. Click it to Exit Recovery Mode on your iPad.
Bonus Tip: Recover your Files with Disk Drill
If you didn't backup your files and lost all of them when you restored your iPad via Recovery Mode, don't despair just yet! Download Disk Drill on your PC/Mac and do the following steps:
Launch Disk Drill. Open the tool on your computer.
Select the Drive. Pick the drive you want recovered and press the Restore button and Disk Drill will begin an automatic scan.
Recover your Files. Once Disk Drill locates your files in your drive, press the Recover Button to the top right of the interface to recover your lost files.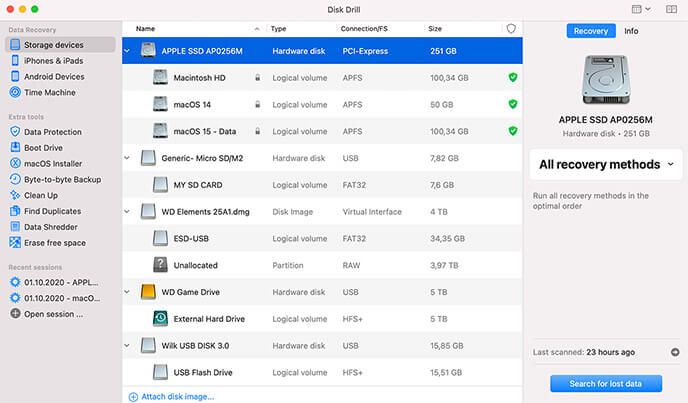 Jul 21, 2017

Category:

Articles
Comments: 0